Post by GuiltySpark on Aug 24, 2016 17:19:46 GMT
Malware
Malware
is a catch-all (generic) term to describe malicious software threats
and tools designed to vandalise or compromise computer systems.
Computer Viruses
Computer
viruses
are programs designed to replicate and spread amongst computers.
Viruses are classified by the different ways they can infect the computer.
For example:
Program viruses - these are sequences of code that insert themselves into another executable (.exe) program or script.
When the application is executed, the virus code becomes active.
Macro viruses - these viruses affect Microsoft Office documents using the macro programming language (Visual Basic for Applications [VBA] used to provide automated functions.
Worms - memory resident viruses that replicate over network resources such as email by exploiting faults in software programs.
A virus's
payload
can be programmed to perform many different actions,
especially in the case of program and macro viruses.
A virus payload may be programmed to display silly messages,
corrupt or delete documents, damage system files, or to install some sort of spyware.
Most viruses must be activated by the user and so need some means to trick the user into opening the infected file.
Email attachment viruses
(usually program or macro viruses in an attched file) often use
the infected host's electronic address book to
spoof
the sender's address when replicating,
For example:
'Jim's computer is infected with a virus and has Alan's email address in his address book.
When Sue gets an infected email apparently sent by Alan, it is the virus on Jim's computer that has sent the message'.
Malware can also be distributed on removable media, such as CD/DVD or USB flash drives (thumb sticks).
Such media autoplay when connected to Windows,
giving a virus an opportunity to infect the PC if the user chooses to allow the infected application to run.
Viruses can also use
application exploits
to replicate without user intervention, in some circumstances.
---
Trojan Horse and Spyware
Other types of malware are not classed as viruses as they do not necessarily try to make copies of themselves.
They can be just as much of a security threat as viruses however.
A
Trojan Horse
is a program that pretends to be something else.
For example, an amusing screen saver may also install a
key logger
.
(click to enlarge)
Most Trojans are of a type also referred to as
backdoor
applications; that is, the program opens a backdoor to your computer giving access to it to an attacker.
A related term is
rootkit
, which is a set of tools designed to gain complete control of a computer without revealing its presence (they often attack the kernel-level operating system code).
Trojans are often used to compromise a number of computers (
botnets
)
for the purpose of carrying out
Denial of Service
(
DoS
) attacks against internet hosts and distribute
spam
.
Trojans are also used by attackers to conceal their actions (attacks appear to come from the corrupted computer system).
Spyware
and
adware
are classes of program that monitor internet activity and send the information to someone else.
If the user is not informed then it's spyware; if the user accepts the use of their data, then it's adware.
Aggressive spyware or Trojans known as
key loggers
actively attempt to steal confidential information
(for example, capturing a credit card number by recording key strokes entered into a web form).
(click to enlarge)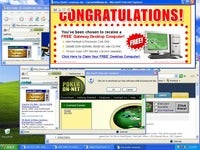 (click to enlarge)
---